Digital marketing has expanded substantially over the past several years, to the point where it has become the dominant form of marketing for most small businesses. For medical practices and companies, digital marketing is a necessity for finding new clients, booking appointments, and providing valuable online information. However, digital marketing and SEO for medical practices usually require a particular set of tactics to reach the right audience and prove the authority and relevance of the business's online presence.
What is SEO and SEO Content Writing?
There are several differentiating factors for medical SEO and content writing in comparison with standard eCommerce practices. SEO, otherwise known as Search Engine Optimization, is the process of improving your website's position SERP (search engine results page) position for specific and relevant keywords that users are searching.
SEO requires continued analysis of organic traffic, monitoring for changes in website clicks or engagement, and specific knowledge of how to tackle the many changes that Google and other search engines make to their indexing and ranking algorithms. SEO is a long-term investment that requires continuous attention. For this reason, many small businesses that cannot afford to hire a marketing specialist choose to work with a digital marketing agency instead.
Content writing is another form of digital marketing that usually implements several SEO-related processes. The content in question is designed for websites and helps to establish a business with expertise, authoritativeness, and trust (E-A-T). SEO-optimized content is essential for improving search engine position, driving organic traffic, and ultimately for increasing the number of transactions, sign-ups, or appointment bookings through online means.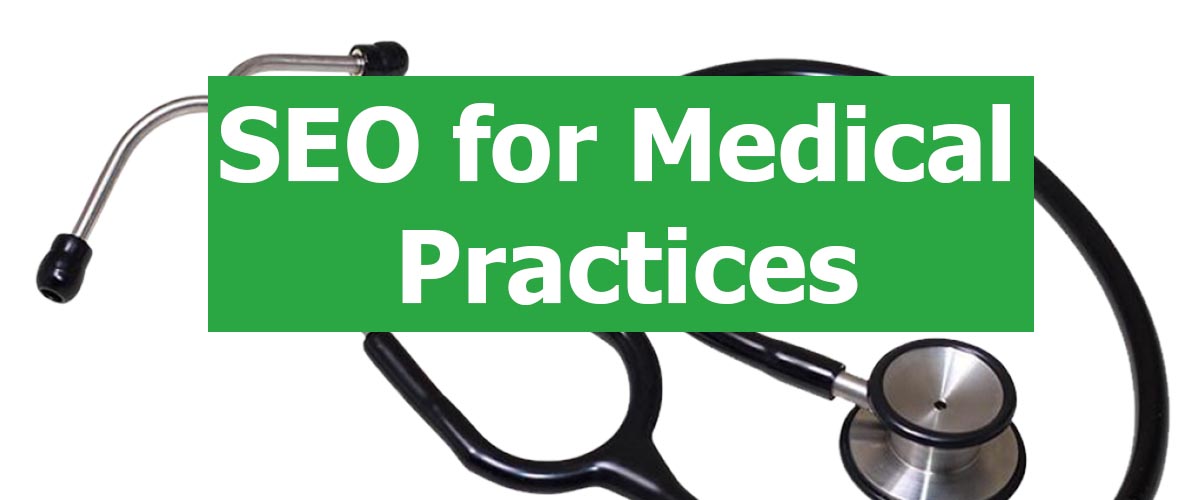 What Factors Differentiate Medical SEO and Content Writing?
There are several ways in which a digital marketing specialist can utilize unique techniques adapted for the medical business landscape. There are also a handful of digital marketing strategies that require special attention when working for medical practices or similar businesses. In this article, we'll look at a few of the key marketing factors that can give your medical practice a competitive edge online.
Website Development and Landing Pages
Almost every digital marketing campaign begins with optimizing and improving a business's website. Your website is your business's online real estate, where most of the work to establish the value of your company occurs. If you lead potential customers, clients, or patients to your website without providing valuable and engaging content, these users will leave your website immediately without interacting or converting.
Medical websites should develop their site with significant content that bolsters the visible expertise of their business and answers the questions that users might have regarding your business or industry. Webpages developed to bring in new users and provide immediate value are typically known as landing pages. These pages are an essential part of your website and should be well designed and load as quickly as possible.
When designing your site, you'll also want to consider providing as much detail as possible through an about us page. This gives users visiting your site an easy way to feel connected with the people that work at your practice, which in turn makes them more likely to book an appointment.
SEO-Optimized Content for Medical Practices
Digital content for medical businesses should, as mentioned above, showcase the expertise of your business. Medical services are highly technical, which means achieving this display of expertise is often challenging for someone outside the field of medicine. Medical business content writers need to undergo a more thorough research process when developing landing pages, blogs, or even general homepage content.
If your medical practice or business is outsourcing your website content, make sure you're working with an agency or specialist who already has some level of experience writing for similar services. There may also be several situations where there are legalities associated with the information you post online regarding your services and their benefits. A content specialist with medical experience can help advise during the drafting process for terms sheets and other similar content, but you may ultimately need to seek legal advice.
Reputation Management
For many medical practices, the health and success of the business depend in large part on its reputation. More than 8 in 10 consumers consult online reviews for businesses in their local area before purchasing any form of product or service. For medical practices and companies, these numbers are even higher. It's important for having a plan to handle your online reputation and perception. You may not be able to control what others are saying about you directly, but there are several steps to take to reduce the impact of negative reviews.
To begin with, a medical services provider will need to claim and optimize their Google My Business and Yelp listings. This will verify your business through the platform and give you direct access to altering the details about your company that these third-party sites are providing. Upload a few photos of your business or practice, fill in and update business hours as needed, and give your potential customers or patients a way to contact you directly, such as a phone number or email.
Once you've claimed your accounts, respond to all reviews in a timely manner, and offer assistance to improve the experience of your one-star reviewers. Responding to reviews, whether positive or negative, gives consumers checking reviews a positive sense of reliability and responsiveness online, which can improve the practice's overall reputation. If a patient or customer has a particularly positive experience with your business, ask them to post a review. You may be surprised at how many people are willing to assist your practice in this manner.
Landing and about us page development, expertise in content writing, and prompt reputation management are all necessities to developing a digital marketing strategy customized for medical practices or businesses. If you are interested in getting started with digital marketing for your practice but don't have the time, reach out to an SEO and content agency with experience working for medical-related clients.